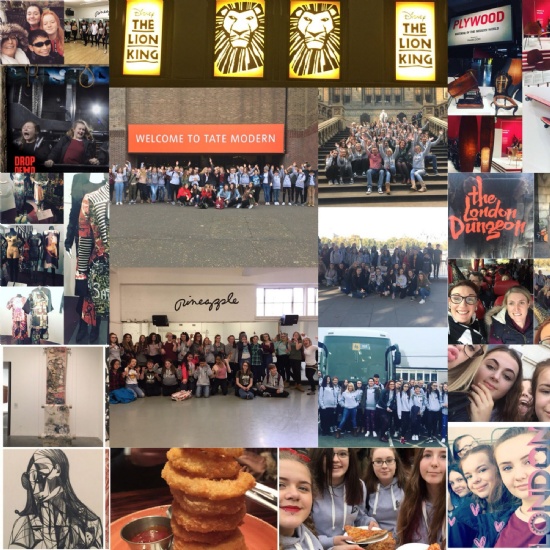 7:15am Wednesday 1st November 2017…. The coach is outside reception, our tour hoodies are on and the excitement mounts as we load our luggage, ready to depart to the big city; London! We stepped off the bus straight into the hustle and bustle surrounding Camden Market. Artistic shop fronts, loud music (Camden is the home of punk rock remember!) and enticing smells of food lured us towards the Stables Market where we sampled food from all corners of the world. This provided our GCSE students with the opportunity to use their newly acquired photography skills to create abstract, creative, and layered images that highlighted society's demand for more and more food.
Day two, watch out Louis, St Cenydd are coming to Pineapple Dance Studios. The students were taught choreography as performed in The Lion King musical, learning to stride like a Lion! Our workshop leaders have been working in the show for more than 10 years and provided us with insights into how Art and Performing Arts are linked. Students impressed the leaders with their enthusiasm and natural talent. Everyone got involved, even the staff were giving it their all! Sat amongst the giant butterflies and sounds of the amazon, the floor rumbling thunder storms scared the staff as well as students as we sat down to our meal in the Rainforest Cafe… a perfect end to our second day.
So day 3 was the day we would visit the Southbank and see the famous landmarks on our bus tour of London! Our favorite was the artist David Shringley's 23ft high bronze hand with an elongated thumb called 'Really Good' which represents 'the best of us', positivity and making the world a better place. Our next visit is one that even made the fearless tremble. All the students were glad the instruments of torture were not used as methods of discipline at St Cenydd! The Tate Modern was our next stop and wow… what an amazing place! The Turbine Hall had the installation piece 'Superflex' which had huge three seater swings installed throughout. The piece wanted us to think about gravity and "if we all swing together across the world, can we change the way in which the world spins". Needless to say, we had fun trying!
After a quick change at the hotel and with our glad rags on we made our way to the Lyceum Theatre for a spectacular performance of The Lion King. The costumes, sets and production were breath taking, the students were beaming and full of inspiration after the show. The whole musical was an overwhelming experience for our senses and one that we are so grateful to have had!
The bus home was a quiet and some well needed sleep was had after the adventure that was LONDON!