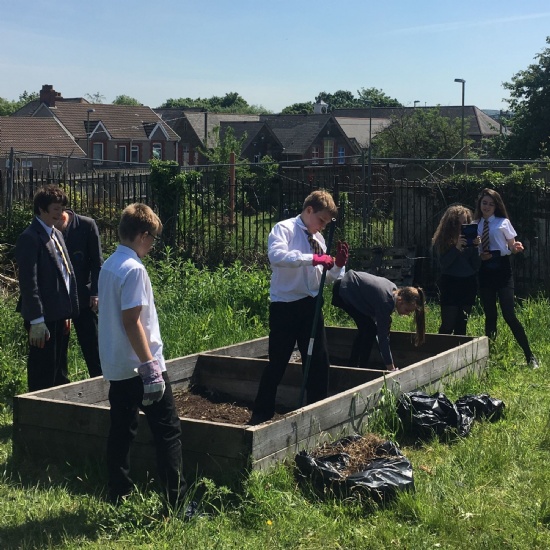 Miss Webber selected 813 to be our Eco Gardeners for the summer term. They have been busy clearing the flowerbeds near the school entrance ready for the wildflower garden to burst through during the summer months.
Last year pupils from Hendre Primary School helped our Eco Group to construct Bee Bedrooms using bamboo and recycled plastic bottles that we collected from around the school.
Year 11 Welsh Baccalaureate classes also helped to tidy the garden and built super-duper Bee and Bee Hotels with the help of the Design and Technology department. Our aim is to place the individual bedrooms and hotels in selected locations in the Eco Garden to try and encourage more bees to visit.
We have approached local garden centres to help us in our quest to 'bring the bees back' and are hoping to have some lavender plants donated soon, we hear that these are like magnets to bees!
813 carried out an analysis of the garden before planting any flowers to see what minibeasts they could find, they will review their findings in July to see if adding vegetation to the patch has encouraged not only bees but other bugs and insects too. They will be tracking the gardens progress using the iPads and photographing their findings and the Eco Garden's evolution every step of the way.
If there are any keen gardening teachers, parents, aunties, uncles, neighbours or grandparents who would like to help us in our quest we would be delighted to receive any donations of seedling flowers, herbs or even vegetables.