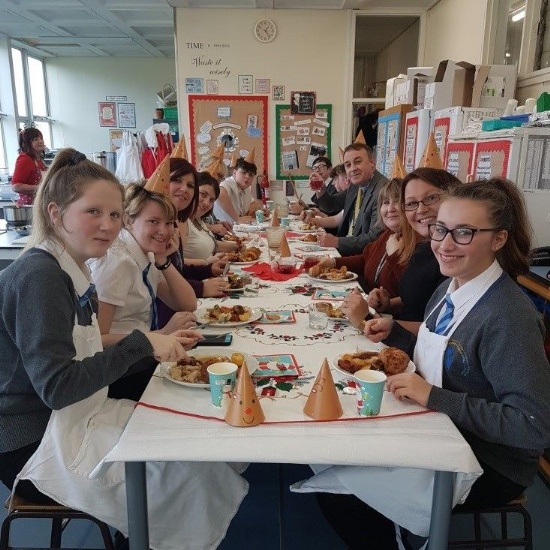 Mrs Ryder's Year 10 BTEC Home Cooking Skills group cooked Christmas Dinner for themselves and special guests last Friday.
They began in the morning by making two different desserts, Chocolate Orange Cheesecake and Pavlova. The next job was to prepare the vegetables – potatoes, parsnips, sprouts, carrots and broccoli.
Pupils then worked in groups to make stuffing balls with sausage meat, apple and herbs and to prepare Pigs in Blankets.
The batter for the Yorkshire Puddings was made and stored in the fridge until needed. Meanwhile, the turkey was roasting in the oven and smelling delicious.
Pupils then helped to set the table, with festive napkins and soon dinner was served.
Pupils had invited the Learning Support Assistants who help them in their cooking lessons to join them for lunch, along with teachers Mrs Lorna Evans and Mr Turk. Everyone thoroughly enjoyed the lunch and just about found room for dessert!