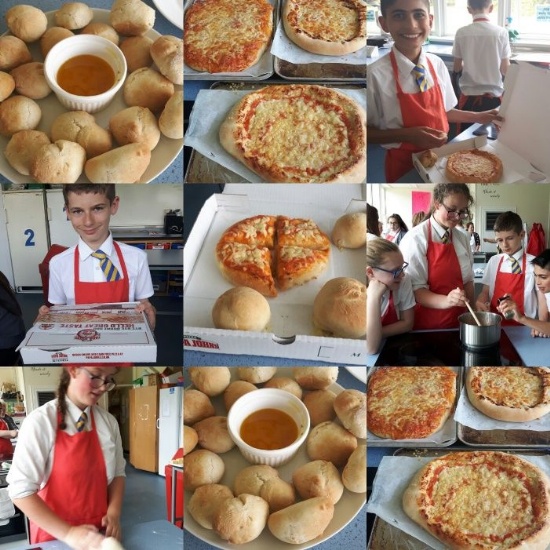 The Home Economics department ran a pizza workshop, giving pupils from year 7 to year 10 the opportunity to create their own pizza from scratch. We had a fantastic morning. Pupils began by making their own bread dough for the base. They had to knead this for 10 minutes, which they all agreed was quite tiring and their arms were aching at the end. Whilst the dough was left in a warm place to prove (rise), the pupils made their own tomato sauce using onions, garlic, tinned tomatoes and mixed herbs. The smells in the corridor were delicious! We also made garlic butter, ready for the doughballs that everyone was going to share later.
Next the pupils had to shape their pizzas and top them. We had a variety of shapes and sizes, with some opting to make mini pizzas for their families and some pupils created stuffed crust pizzas. These were baked and then packed into pizza boxes that were kindly donated by Papa John's pizza shop. All of the pizzas looked very professional and we had lots of visitors drawn in by the amazing smells, who were only too willing to act as taste testers!
After the all-important washing up, we sat down to enjoy the doughballs, dipped in garlic butter. They disappeared very quickly!
All agreed that it was a fun-filled morning, with delicious pizzas to enjoy afterwards.