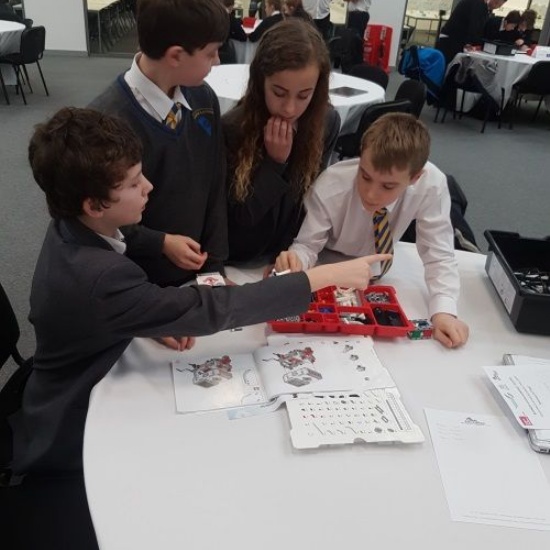 The Year 8 Lego Robot team are victorious, having won the regional Business Class cluster challenge at the Eden Education Centre!
Thursday 16th February saw the culmination of the intra-schools Robotics Competition that the Eden Education Centre hosted on behalf of Business Class Cymru and Careers Wales.
Five schools took part from the Caerphilly Business Cluster Challenge. The winning team from each of the school heats worked hard throughout the day to present their challenges to the judging panel, which consisted of representatives from Careers Wales, Morgan Sindell and Blaenau Gwent Apprenticeship Team.
The teams had to show their engineering skills in building their Lego Mindstorms EV3 robot, programming it to move to complete the challenges set, they had to present their findings to the judges who marked them on their team work and problem solving skills.
All the teams were amazing and a great day was had by all, however based on an outstanding presentation, team collaboration and a passion to succeed the winning team was St Cenydd Community School! The winners received a £20 voucher and an engraved glass trophy.
The teams was supported by Camille Colobier from IQE, the school's Business Class partner, and were cheered on by staff from the school and IQE.
Dr Drew Nelson, OBE, IQE's CEO said, "IQE is proud to support and to be associated with Business in the Community (BITC). Through our interactions with the St. Cenydd school in Caerphilly we have started building some excellent relationships based around encouraging and promoting the role of science, technology, engineering and maths subjects in high-tech businesses such as IQE's.
"Taking part in events such as the "Lego Challenge" at the Eden Centre provides an excellent opportunity for young people, who are our future, to interact and experience a taste of how businesses work and I am particularly proud of the team from St. Cenydd in winning the challenge.
The winning team trained by Mr Craig were:
Morgan Lougher
Morgan Taylor
Bethan Roberts
Alec Robinson