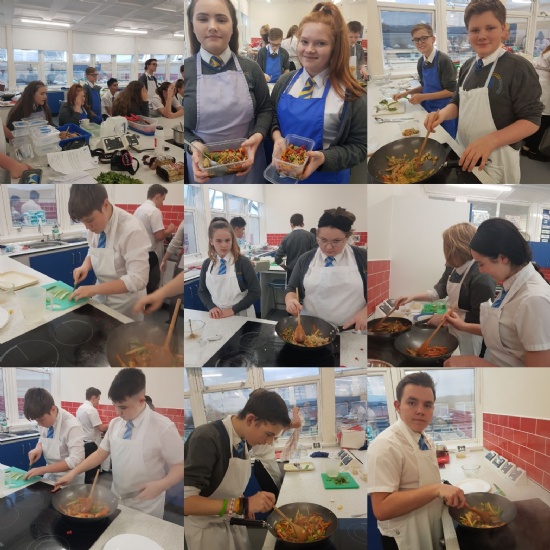 On Thursday 28th November, we welcomed 2 Representatives from FUN Healthy Chinese Cuisine Ambassadors, Milline and Charlotte. They spent a very busy day with us, running 3 workshops for pupils in Years 8, 9 and 10. First we had a presentation about Chinese cuisine, we learned a little about the Geography of China and also a few Chinese words. Then pupils were shown how to de-bone a chicken thigh, which they then marinated and how to prepare a variety of vegetables. Pupils made the sauce that they would add to the Stir fry, before they began cooking. Stirfrying is a very quick, healthy method of cooking, as it only uses a small amount of oil and the food is cooked over a high heat. Pupils were encouraged to garnish their stir fries with coriander and spring onion, when plating up their finished dish.
Finally, the best part...tasting! All agreed that the stir fries were delicious...including some of the senior staff, who popped in for a sample!
The recipes used on the day along with a selection of other recipes are available here on the school website.