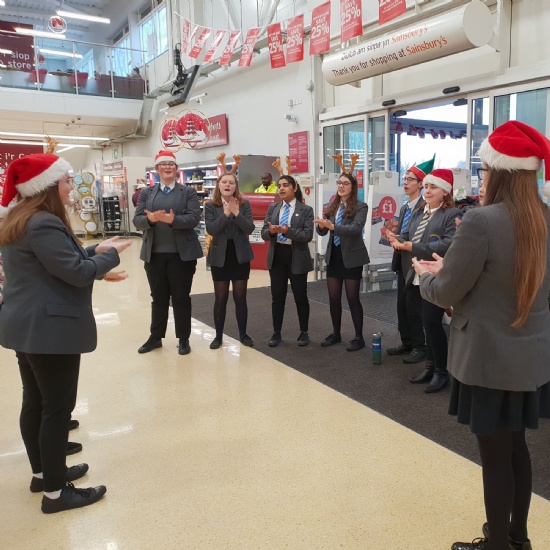 During November and December the Signing Choir raised funds two funds. Some of the funds raised will be put towards the funding needed for a group of students to have the opportunity to gain an externally recognised qualification in British Sign Language, Level 1. This is a new development and has been described as sector leading and life enhancing by professionals linked to the provision for Additional Learning Needs and Hearing Impairment. Any additional funds raised will be used within the Additional Learning Needs Department at St Cenydd Community School which has pupils with a wide range of additional learning needs. We try to augment their educational experience by taking them out of school to help their personal development. The additional monies raised will augment and enrich their educational experience. We raised a grand total of over £800! (£819.30)
All the pupils in the signing choir are aged between 11 & 15 and have been prepared to come to regular lunchtime rehearsals. We were fortunate enough to recruit some new members of the choir and had a group of 28 we could rely upon. The Signing Choir was divided into two groups to minimize the amount of lessons missed. Each group had some experienced choir members and some new members.
In addition to the the fund raising performances we also enjoyed performing in Aber Mill Residential Home, Abertridwr as part of our community links programme.
The dates and venues for the performances were:-
Monday 26 November – Asda, Caerphilly
Friday 30 November – Aber Mill Residential Home, Abertridwr
Tuesday 4 December – Morrisons, Bargoed
Thursday 6 December - Sainsbury, Thorn Hill
Friday 7 December - Asda, Caerphilly
Monday 10 December – Sainsbury, Pontypridd
Wednesday 12th December– Tesco, Ystrad Mynach
We would like to thank all the supermarkets that gave us the opportunity to fund raise and for the warm welcome we received. We would also like to thank the members of the public who not only generously supported this worthwhile and successful project but also made so many positive and complimentary comments. We have been asked to return to the same venues next year so we hope you will be able to enjoy watching the Signing Choir again next Christmas.
It only remains for us to thank you once again and to wish you all a very Merry Christmas and a Happy and peaceful New Year.