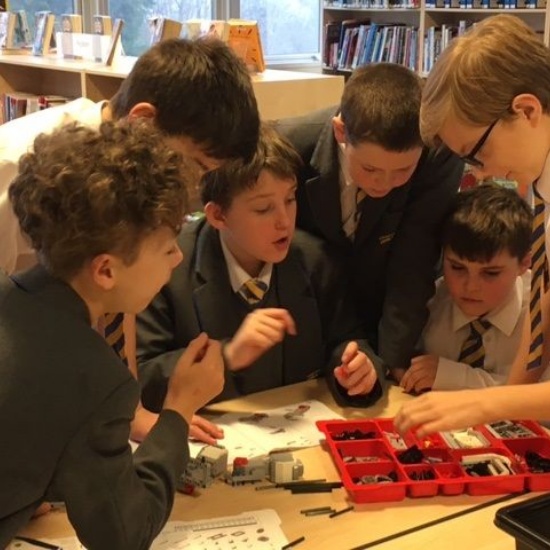 30 Year 8 pupils swapped their classrooms for a morning in the company of robots – robots designed and built by them. The competition was part of the Business Class programme run by Careers Wales which has partnered St Cenydd with IQE, a Cardiff based Technology Company.
Using LEGO education resources provided by the Eden Education Centre, Aberbeeg, pupils were asked to build and programme their robot and manoeuvre it to complete different challenges.
The aim of the day, staged in the Library at St Cenydd, was to provide pupils involved with an opportunity to take part in activity which helps them to develop both work and personal skills. The technical side – the robot-building – was only part of the story.
While creating a robot calls for pupils to show off their science, technology, engineering, maths (STEM) subjects skills, the teams were be judged on other factors, too. Within their chosen team, points were awarded for team work, innovative building skills and their ability to complete the challenge on the day.
The need to develop pupils' STEM skills for the future industry workforce is widely recognised. I would like to thank and congratulate all pupils who took part on this successful day and the staff that helped make the day possible, including Mrs Dunstan from IQE and Mrs Smith from Careers Wales, who helped to judge the event.
The winning team will now go on to compete against five other schools in the Inter-School Robotics Challenge on February 16th 2017 at the Eden Education Centre.
The winning team were:
Morgan Lougher (Team Leader)
Morgan Taylor
Leah Ball
Bethan Roberts
Molly Davies
More information about IQE can be found here