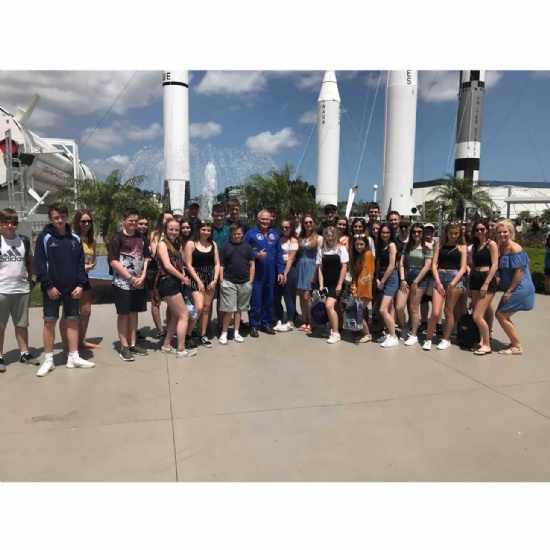 During the Easter holidays thirty-five St. Cenydd pupils attended a nine day trip to Orlando, Florida.
The pupils expressed that they thoroughly enjoyed our day out at Universal Islands of Adventure, where most of the students were daring enough to experience 'The Hulk' roller-coaster. The hot weather gave the kids the perfect excuse to try out the many water rides, which successfully drenched the majority of pupils and teachers! A highlight of the day was the evening meal at The Hard Rock Café, where the pupils were able to eat in their own private room where the walls were covered in rock memorabilia.
Another highlight of the trip was the NASA 'Astronaut Training Experience' at Kennedy Space Center. The students enthusiastically took part in a mission simulation; including aspects such as micro-gravity simulation, virtual reality missions and a launch in NASA's Space Launch System (SLS). This was complimented by an additional day at Kennedy Space Center where the pupils had a bus tour to the launch pads and witnessed the original Space Shuttle Atlantis! To complete the experience the pupils had lunch with an astronaut where they listened to his first-hand account of his expedition to space; a true once in a lifetime experience.
With rollercoasters, space stations, escape rooms, hovercraft rides and alligators, you would expect the pupils to be exhausted, however, they still managed to find some energy to take part in the most 'important' activity of the trip; shopping!
Overall, the trip was a huge success and the pupils were a credit to the school.
Click here for the full gallery.